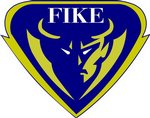 "Home of The Golden Demons!"
DAILY ANNOUNCEMENTS
FIKE'S BLOOD DRIVE - The theme for the blood drive this year is "You Don't Have To Be A Superhero To Save Lives.....Give Blood". The Fike Blood Drive will be held Thursday, March 9th. Please go ahead and sign yourself up to donate blood if you are 16 or older AND recruit donors! We have 100 donors registered to give blood. We need 900 more. We will begin drawing names for prizes if you have registered donors to give blood. The student who has the most donors give blood, will receive the Blood Hound prize, which is $25 cash!
ACT PREP - The ACT Prep is canceled after school on Tues., 2/21. Will resume back on Thurs., 2/23.
JUNIOR-SENIOR PROM - The Junior-Senior Prom is scheduled for April 13th. Tickets went on sale Monday, February 20th, for $30 until the end of February. Tickets will increase to $40 on Wednesday, March 1st. Please see Mrs. Wheeler in room #203 to purchase tickets.
ART STUDENTS - Any art students from last semester may come by Art class to get their glazed ceramic pieces. Please come before school or between classes.
ART CLUB MEETING - The Art Club will meet this Friday, February 24th, during homeroom.
SPANISH CLUB MEETING - The Spanish Club meeting has bee rescheduled to Friday, February 24th.
CAREER AND COLLEGE SHOWCASE - Wilson County Schools and Wilson Community College are partnering to offer a Career and College Showcase for students in grades 8-12. The purpose of this event is to showcase the programs available at our high schools and showcase the programs that are offered at Wilson Community College.
The Career and College Showcase will be held on the campus of Wilson Community College on Saturday, February 5th from 10:00 until 1:00. Learn about your high school's career and technical course offerings AND explore certificates, diploma and degree opportunities at Wilson Community College. Take advantage of this opportunity to jumpstart your career and college goals.
SENIOR CAP AND GOWNS - A representative from Herff Jones will be here on Monday, April 24th, to deliver all senior caps and gowns that have been paid for in full. They will be handing them out during all lunches in Fike's commons area. Any senior that still owes a balance on their order, please mail payment to Graduate Services East of NC, P. O. Box 879, Spring Hope, NC 27882. Any senior needing to order their cap and gown need to order online at www.highschool.herffjones.com . Please call 252-478-3146, if you should have any questions regarding your order.
PARENTS, STUDENTS AND STAFF - Please come out and suport your Fike Men's Varsity Basketball team as they battle the #1 team in the state, Northern Nash, in the 2nd round of the state playoffs. We need your support to cheer us on to victory! Game time is 7:00 p.m. at Northern Nash.

"BRING YOUR A-GAME TO SCHOOL" - ATTETNION STUDENTS!! On April 26th, we will be having a "Bring Your A-Game to School". It is a BMX Ramp Show Assembly. This is a reward for students who have 1 or less tardies for this semester. The dates that will be looked at are 2/22/17 - 4/19/17 (Feb. 22nd - April 19th). It will begin at 8:30 a.m. and last about 45 minutes. You will be receiving cards on April 21st during homeroom. You will not be allowed out of class without your "NO TARDY PARTY" pass. Once you get it, don't lose it!!! There will be no replacement cards!
KRISPY KREME DOUGHNUTS - FBLA is selling Krispy Kreme doughnuts. They are $7 per dozen, glazed to be delivered during 2nd block on Friday, March 3rd. See Mrs. Cobb, Ms. Inscoe or an FBLA member to order.
.