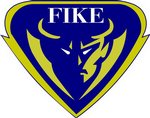 "Home of The Golden Demons!"
DAILY ANNOUNCEMENTS
JUNIOR-SENIOR PROM - The Junior-Senior Prom is scheduled for April 13th. Tickets are now $50. Please see Mrs. Wheeler in room #203 to purchase tickets. The deadline for guest applications was March 31st.
SENIOR CAP AND GOWNS - A representative from Herff Jones will be here on Monday, April 24th, to deliver all senior caps and gowns that have been paid for in full. They will be handing them out during all lunches in Fike's commons area. Any senior that still owes a balance on their order, please mail payment to Graduate Services East of NC, P. O. Box 879, Spring Hope, NC 27882. Any senior needing to order their cap and gown need to order online at www.highschool.herffjones.com . Please call 252-478-3146, if you should have any questions regarding your order.
"BRING YOUR A-GAME TO SCHOOL" - ATTETNION STUDENTS!! On April 26th, we will be having a "Bring Your A-Game to School". It is a BMX Ramp Show Assembly. This is a reward for students who have 1 or less tardies for this semester. The dates that will be looked at are 2/22/17 - 4/19/17 (Feb. 22nd - April 19th). It will begin at 8:30 a.m. and last about 45 minutes. You will be receiving cards on April 21st during homeroom. You will not be allowed out of class without your "NO TARDY PARTY" pass. Once you get it, don't lose it!!! There will be no replacement cards!
STUDENT FEES DUE BEFORE PROM - Students need to take a look at the media center doors for a list of students who owe library related fines are posted there. If your name is on the list, please see Mrs. Edwards in the media center to pay your fines before prom.
INTERACT HOSTING "HAT DAY" - The Interact Club will be hosting a "Hat Day" on April 13th (the day of the prom). Students can purchase a sticker allowing them to wear a hat to school all day. Stickers will be sold during lunch today through April 12th. Stickers are $1.
LAST DAY OF LEARNING CENTER - The last day of Learning Center for 2nd semester is Thursday, June 1. If you have excessive absences, please begin making up your days. Learning Center is Monday through Thursday from 2:40 p.m. to 4 p.m.
.