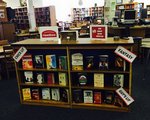 Read More!
The Media Center strives to supplement the technology and instructional needs of the school. The multiple resources that we provide aid in strengthening research, computer and reading skills.
Follow us on TWITTER! @MCSquadLeader!
Linking Students, Faculty, and Staff to INFORMATION!
Resources
Fiction/Nonfiction Books
Reference Materials
Destiny- OPAC (online public access catalog)
NC WiseOwl
Scanning
The Library Media Center is open every day from 7:25 am until 2:45 pm. Students may return, renew, and check out books any time during the school day (with a teacher's note). Students may also visit the Library Media Center during their lunch time. Students can check out up to 3 items at one time. e-Books do not count in the 3 items limit. If students owe library fines/fees, then they cannot check out items. Fines/fees need to be paid before their account can be cleared. Please see Mrs. Edwards if you have any questions about this. Late books cost 10 cents per day.
If a student is with their class using the Media Center or Computer Lab, they can print out up to 5 pages for free. There are 2 scanners and 1 color printer for students' use. There is also a copier that students can use for copies. Printouts are 5 cents per copy.
Students use Destiny (online card catalog) to search for books. Student may request books to be ordered or loaned by another school in our Wilson County School district.
destiny.wilsonschoolsnc.net
ncwise.org also provides great reliable resources. See Mrs. Edwards for the password.