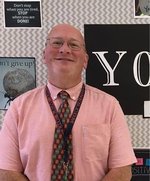 Mr. Timothy Messer's Vision
Email
My Personal Vision
I do not take this task lightly and it is something that has been burning in me for my entire life. Life at times reminds me of the great waters that have carved paths across nations. The water is never sure which way the path will be cut. Once this path is cut and established it has the ability to sustain life, enable civilizations, and enhance the beauty of an already breath taking landscape. To me education of children mirrors that water traveling along the earth. As an administrator I may not be certain which path the children in front of me may take. However, with the right structure, mentoring, and education these children can carve canyons into their life's landscape. This carving and shaping would then give a colorful existence to a continually changing landscape in life.
I have had the privilege of teaching Science and Social Studies. Two subjects in my mind that are fascinating and unending. These two core subjects are forever changing and growing. History is writing itself every day that life exists. Science is continually finding new or corrected aspects of life. Both of these contents continue to reassuring some things and yet uncovering ancient items that are newly discovered. I believe that together your classrooms can become the starting point for great adventures into many pasts, and glimpses into the future. It allows passion, inspiration, desire, and competition to flourish in any classroom setting.
As an educator we wear so many hats. We are educators, leaders, mentors, inspirations, pseudo fathers and mothers, counselors, nurses, confidants, disciplinarians, protectors, and care givers in many cases. I take all of this to heart! I never take any of this for granted. I know I have children that go hungry, have horrible lives outside of school. Live in abusive environments; get little sleep because they are raising their siblings, and so many other issues. On the other hand we have children that come from great homes and are never lacking. They have two parents very concerned about them. They are in a loving and flourishing environment. This however doesn't mean they still don't need each hat we wear!
In the classroom I have the ability to affect approximately one hundred and twenty students in a year in my classroom. On the field depending on the sport I am coaching at the time I might be able to affect sixty to a hundred more. As a Principal, Vice Principal, or school administrator, my opportunity to make an impact grows exponentially. The levels through which I can make an impact change as well. This is the next logical step in my progression as an educator. For every one child I might impact or know I have impacted allows me as an educator to sleep well at night. It allows me to rationalize the lack of pay teachers receive. It gives me strength and spirit to be inspired every day, week after week, month after month, and year after year. Finally it continues to validate my choice to become an educator. To all the negative people, the doubters in education, the doom and gloom outlook of some, gives me proof to show them the positives, the successes, the victories big and small.
My ultimate desire in this world is to be that stone thrown into the middle of the lake of life. As the stone is thrown it seems very unassuming and doomed to be sitting at the bottom of the lake. However, in effect the ripples that are created from that simple rock create exponential impact from the center all the way to the outer most edge of the lake. I want to be that simple stone that impacts the entire lake. I want to be the exponential change in a child's life that causes them to strive for greatness, never accept defeat; don't take no for an answer, and to reach the lofty goals set for them! I am a man, husband, father, uncle, brother, son, leader, teacher, mentor, father to children that are not mine, coach, hero to my children, and a Marine! I am many things to many people. I am Timothy Michael Messer. I am an Educator!